http://www.nytimes.com/2014/10/14/business/media/walking-dead-premiere-draws-17-million-viewers-a-record-for-a-cable-tv-drama.html?_r=0
'Walking Dead' Premiere Draws 17 Million Viewers, a Record for a Cable TV Drama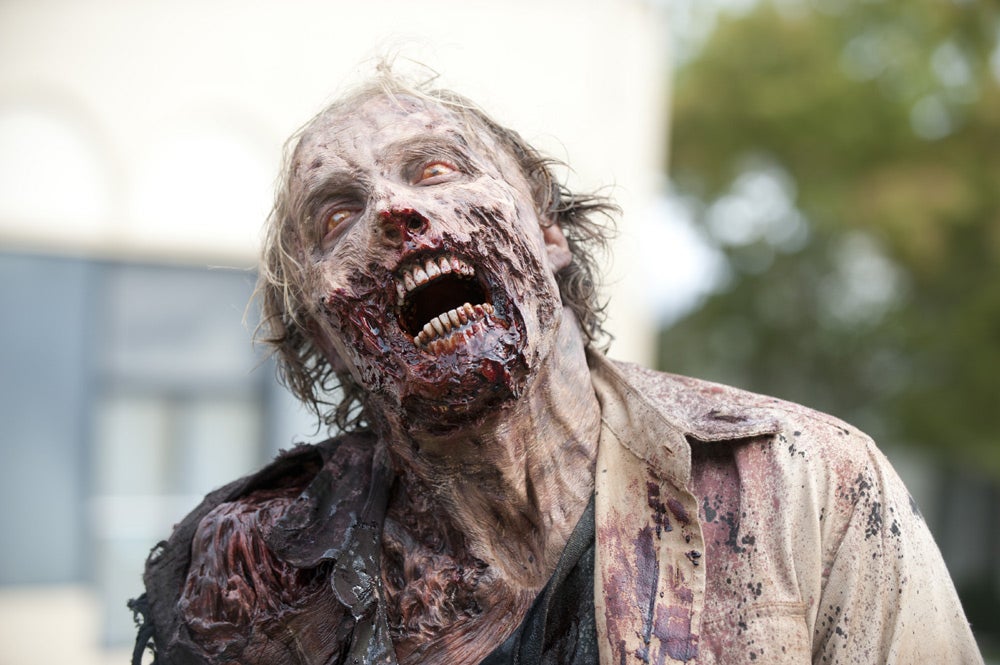 The ratings news from Sunday night was unusually buoyant across the board, as "The Walking Dead" on AMC shattered its own previous record as the most-watched drama in cable television history, and the four broadcast networks all posted increased numbers for premiere week, when delayed viewing over seven days was counted.
At the same time, one new network entry, "Gotham," on Fox, had its order for the season expanded to 22 episodes, and FX's cable series "American Horror Story" won a renewal for a fifth season after just the first episode of its fourth season — because that episode set a record rating for FX.
The return of "Walking Dead" for a fifth season drew 17.3 million viewers for its 9 p.m. telecast Sunday, topping its previous record of 16.1 million. The show was so overpowering it even crushed the N.F.L.: "Dead," with an audience of 11 million in the 18-49 age group that is preferred by many advertisers, was 2.5 million larger than NBC's "Sunday Night Football" game.
AMC's talk show that followed the episode, "Talking Dead," also shattered its previous record, attracting 6.9 million viewers, 4.5 million of whom were in the 18-49 category — those numbers were up over one-third from last year.
For the broadcasters, the seven-day ratings showed such big increases over initial numbers that each of the four could proclaim they had more viewers than a year ago in premiere week. CBS had the most viewers, 13.2 million, up from 12.9 million the year before; NBC had 12 million, up from 11.4 million; ABC had 10.3 million, up from 9.9 million; and even Fox, which struggled the most, was up to 7.4 million from 6.7 million.
NBC won the week among the viewers in the prized 18-49 demographic, with a 3.7 rating, which was unchanged from last year's performance. CBS was also even with a 3.1. ABC was down 6 percent to a 2.9 and Fox was down 4 percent to a 2.7.
The numbers reflect the recalculation Nielsen was forced to make after acknowledging last week that it had been providing inaccurate numbers for the broadcasters — which inflated ABC to the detriment of the others — for the last seven months.
The news on "Gotham" was a bit unexpected, not because the Fox show has not done well — it is one of the hits of the new season. But when the season started, the production team announced it would be capped at 16 episodes this season. However, Fox needs as much of a hit as it can get, so now there will be 22 episodes of "Gotham."
"American Horror Story," which this year is called "Freak Show," attracted 10 million viewers for its premiere last Wednesday, when three extra days of delayed viewing were counted. That is how FX chooses to announce it ratings results now. That number is the best in the network's history, topping this season's premiere of "Sons of Anarchy."