http://nymag.com/guides/summer/2015/swimming/
How to Swim All By Yourself
Naked or otherwise. Locals reveal their go-to empty beaches, secluded waterfalls, and non-cheesy rooftop pools.
 Margaret Rhodes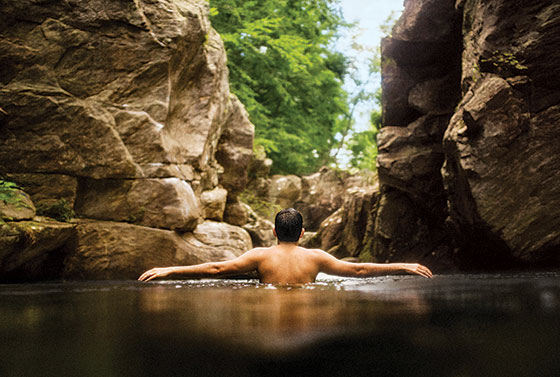 Your own summer oasis  
(Photo: Tim Radville)
Beaches
Meadow Island, Freeport, N.Y.; drive: 45 mins.
"Jones Beach is amazing, but it gets so crowded. Pull over to this little spit by the bay—you can fit five to ten people. It's not a wide expanse of beach at all. There's no kids screaming or lifeguards blowing whistles. And our friends can bring their dogs."—Ayo Omojola, founder of NYC Beach Bus
Ponquogue Beach, Hampton Bays, N.Y. drive: 1 hr., 50 mins.
"This surfing spot between Westhampton and Southampton is nicely situated to pick up most of the swell that hits central Long Island. If the ocean is cooperating, there should be some nicely formed sandbars just west of the inlet, and the beach itself is a little gem of untarnished land and sea—no beach houses, shops, or people. It's just you, the dunes, the ocean, and, if you're lucky, some swell."—Jeffrey Schroeder, co-founder of Union Surfboards
Fort Wadsworth Beach, Staten Island; drive: 40 mins.
"At the very north end of South Beach, you come down off a big hill where the Verrazano meets Staten Island, and there's a wide, sandy beach. There's big potential for beachcombers; I've found cool debris like wooden lobster traps and furniture. It's swim-at-your-own-risk there, but if you're safe about it, it's a great beach."—Rob Buchanan, assistant professor at the New School, local boater
Avon-by-the-Sea, N.J.; drive: 1 hr., 15 mins
"Avon (locals say it Ah-von) is everything that people believe the Jersey Shore is not: a quiet residential Irish-Catholic enclave with a long boardwalk and a soft-serve-ice-cream spot. A total oasis away from the mayhem of Asbury Park. It's mostly locals who know each other and have their spots—I always sit downwind from lifeguard stand No. 6." —Jeannie Cambria, marketing manager at SiteCompli
Old Field Point, Old Field, N.Y.; drive: 1 hr., 20 mins.
"There's a historic lighthouse from 1823 at this peninsula on the North Shore of Long Island. Go past it through the brush to a rocky crescent-shaped beach with water on both sides. It goes for 11 miles, and it's usually empty except for some fishermen. We'll explore, collect shells, have a picnic." —Michelle Young, founder of Untapped Cities
(Photo: Gabrielle Plucknette/New York Magazine)
Lakes, Falls, and Swimming Holes
Devil's Glen, Weston, Conn.; drive: 1 hr., 20 mins.
"Between two reservoirs, there's a place where you can pull over and park next to a bridge. Less than two minutes into the woods is the swimming hole, surrounded by 40-feet-high cliffs. You could easily drive by it and never know."—Colin Tunstall, co-founder of Saturdays
Indian Brook Falls, Garrison, N.Y.; drive: 1 hour
"This is still one of the best undiscovered waterfalls. You park underneath a big suspension bridge, hike for ten minutes, and then it's like an oasis. The pool goes from three to maybe five feet deep, and you can swim around behind the waterfall to sit on the rocks back there." —Quinn Luke, musician
Crystal Lake Wild Forest, Fremont, N.Y. drive: 2 hrs., 20 mins.
"It's a self-selecting crowd here. Besides some people in pickup trucks playing Creedence, drinking beers in Koozies, you'll have solitude. A path wraps around the lake, and every 100 feet or so another small path takes you to the water. You can go out in the lake and be completely at peace, surrounded by forest." —Eric Demby, co-founder of Brooklyn Flea
Plattekill Falls, Elka Park, N.Y.; drive: 2 hrs.
"The locals who work at Miss Lucy's Kitchen, in Saugerties, told us about this swimming hole. Winding trails take you down to the creek, where it's at least ten degrees cooler. The water is icy cold and pristine. It's super-mystical—very fairy."—Lisa Levine, owner of Maha Rose Center for Healing
Coxing Kill Stream, Mohonk Preserve, New Paltz, NY.; drive: 1 hr., 40 mins.
"Most people don't know there's an official area set aside at Coxing Kill for nude sunbathing and skinny-dipping, and it's legal once you pass a sign saying you may encounter nudity beyond this point. There are pockets of sunshine on rocks big enough to sunbathe in and little waterfalls you can sit under for a natural, spalike experience." —Felicity Jones, co-founder of Young Naturists America
Pools
Castle Hotel & Spa, Tarrytown, N.Y.; drive: 1 hr.; $250 a month or $60 for a day pass with spa treatment
"The castle is at the highest point of Westchester County, so you walk a little ways downhill on the property, and the pool is off to the side and remote, which is a nice feeling. The lounge chairs all come with an umbrella (which I love because I'm pale), and there's a poolside bar where people are ordering beers and rosé and burgers. The property itself is gorgeous—you look up from the pool and can see the castle." —Jetty-Jane Connor, associate vice-president at the Door
The Ramada, New Hope, Pa.; drive: 1 hr., 30 mins.; $10 a day
"From the street, this place looks like a total throwaway. What you can't see is that the hotel has this 1970s Mad Men vibe and a pool out back that's really pretty, and surrounded by a ton of lounge chairs, woods and trees, and a tennis court."—Lauren Moffatt, fashion designer
Alderbrook Pool, Riverdale, N.Y.; drive: 45 min. from Grand Central; $595 for the summer
"There's a faded glamour to the stone deck and pool here, which was built in the early-20th century as part of the Alderbrook Estate. They later made it a community pool, so now any anyone can get a membership if they apply. It's the opposite of a civic pool—it's got a Grey Gardens feel instead."—Anonymous
How to Swim in Other People's Pools
Two residential pools that can be accessed for less than a broker's fee.
Mercedes Club at Mercedes House
550 W. 54th St.; from $125 a month. Membership at this luxury rental's fitness club comes with outdoor-­ and indoor-pool access, plus steam room and sauna.
Liberty Terrace
380 Rector Pl.; $910 a year. Hit the gym, then the pool: Annual membership at Battery Park City's Liberty Terrace includes everything from Pilates to treadmill access, on top of an outdoor athletic pool.