MARCH 5 – APRIL 25, 2011
The Orchid Show: On Broadway
Location: Enid A. Haupt Conservatory | Get Your Tickets
Experience the thrill of opening night at The Orchid Show: On Broadway as Tony award-winning set designer Scott Pask and image-maker Drew Hodges bring the allure, excitement, and glamour of Broadway to The New York Botanical Garden.
This must-see, limited run horticultural engagement takes place in the dramatic galleries of the landmark Enid A. Haupt Conservatory. Echoing elements from some of Broadway's most iconic theaters, including the Walter Kerr Theater and the New Amsterdam Theater, The Orchid Show: On Broadway showcases 5,000 dazzling specimens from one of the most distinguished orchid collections in the world.
Over 300 types of orchids are displayed in dramatic curtains, arcades, and chandeliers under the domes of America's largest glasshouse. Be charmed by the flowery thespians; on weekends, thrill tothe sounds of some of Broadway's best-loved tunes; and immerse yourself in theater history withHirschfeld's Broadway Scrapbook. More ...
Principal Sponsors: MR. AND MRS. MARVIN H. DAVIDSON
Founding Sponsor: 
Generous support also provided by the Karen Katen Foundation
Open 10 a.m.-6 p.m., Tuesday-Sunday
Monday, April 25, 10 a.m.-6 p.m.
Members: Free
Adults: $20
Seniors/Students: $18
Children: $8 Children Under 2: Free
Get Your Tickets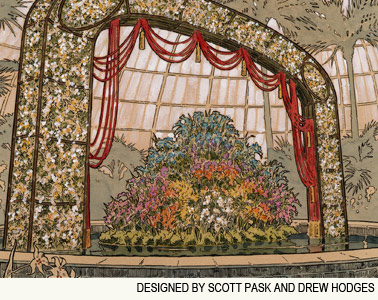 © The Al Hirschfeld Foundation. All rights reserved.www.AlHirschfeldFoundation.org