http://blogs.esa.int/rosetta/2014/11/15/our-landers-asleep/
Our lander's asleep
With its batteries depleted and not enough sunlight available to recharge, Philae has fallen into 'idle mode' for a potentially long silence. In this mode, all instruments and most systems on board are shut down.
"Prior to falling silent, the lander was able to transmit all science data gathered during the First Science Sequence," says DLR's Stephan Ulamec, Lander Manager, who was in the Main Control Room at ESOC tonight.
"This machine performed magnificently under tough conditions, and we can be fully proud of the incredible scientific success Philae has delivered."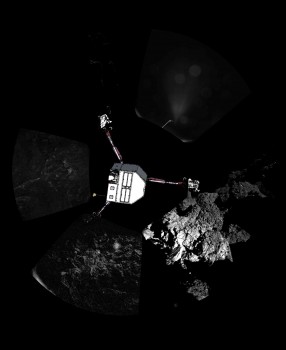 Contact was lost at 00:36 UTC / 01:36 CET, not long before the scheduled communication loss that would have happened anyway as Rosetta orbited below the horizon.
From now on, no contact would be possible unless sufficient sunlight falls on the solar panels to generate enough power to wake it up.
The possibility that this may happen was boosted this evening when mission controllers sent commands to rotate the lander's main body, to which the solar panels are fixed. This may have exposed more panel area to sunlight.
The next possible communication slot begins on 15 November at about 10:00 UTC / 11:00 CET. The orbiter will listen for a signal, and will continue doing so when its orbit enables communication visibility in the future.
However, given the low recharge current available from the solar cells, it is considered unlikely that contact with Philae will be established in the coming days.
The hugely successful Rosetta mission will continue, as the spacecraft tracks comet 67P/C-G on its journey to the Sun. Rosetta is the first spacecraft to rendezvous with and orbit a comet and has already returned incredible scientific data.
Follow the mission via http://rosetta.esa.int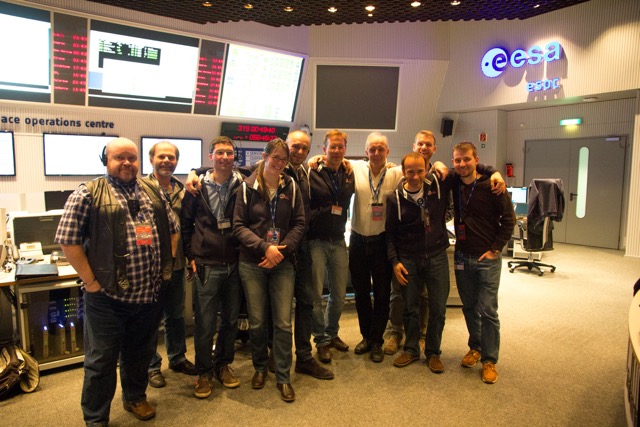 Rosetta flight controllers and Philae mission managers in Main Control Room at ESOC, just after loss of contact with Philae. Credit: Steven Young/Astronomy Now