http://seastreak.com/tour-and-event-cruises/hudson-river-fall-foliage-cruise-with-cold-spring-ny-visit/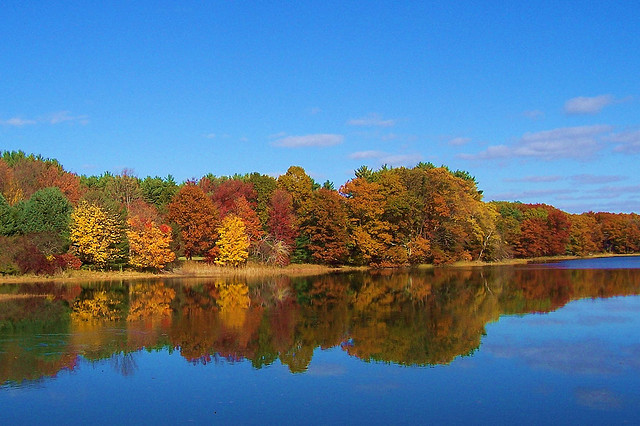 A breathtaking river cruise of fall colors
New York is bursting out in a brilliant autumn kaleidoscope. Make the most of it by cruising up the tree-lined Hudson River to historic Cold Spring, NY, aboard a state-of-the-art Seastreak catamaran. Relax and enjoy an ever-changing view of the fiery red, glowing orange, and golden yellow foliage that makes the Hudson River an international fall destination. During the cruise, you'll enjoy a narrated tour provided by our professional guide!
We'll stop in Cold Spring, NY for the afternoon where you'll have almost four hours to dine at one of the many local eateries and explore the neat shops in one of New York's most idyllic villages. We'll return mid-afternoon in time to see the autumn colors by sunset and New York City start to light up for the night. If you go on a Saturday, you can stay overnight in Cold Spring at a romantic bed and breakfast and return back on our Sunday cruise.
We also offer one-way cruises from New York City and New Jersey to Cold Spring, NY, or from Cold Spring to NYC or New Jersey.  Narrator provided on the NJ/NYC to Cold Spring direction only.
Gorgeous fall foliage up and down the Hudson River

We'll follow the majestic river as she meanders under the George Washington Bridge, past the Cloisters, and catch some breathtaking views of the Palisades. We'll see the rolling tree-filled hills and shores of Hastings-on-the-Hudson, Tarrytown, Ossining, Croton Point, Haverstraw, Stony Point, Bear Mountain, and West Point.

Farm-to-table foods, local artisans and boutiques, and a 19th century waterfront main street

Enjoy a gourmet meal and boutique shopping in Cold Spring by the water in this historic, 1800s village main street. Get your artisan holiday gifts and one-of-a-kind decorations early or just enjoy strolling the Victorian streets, houses, and shops.

Full-service bar, indoor/outdoor seating, and private restrooms

Relax and unwind during the cruise in our open-air top deck or indoors in our climate-controlled cabins with 360 degree panoramic windows, comfortable seating, a full-service bar, and the convenience of private his/hers restrooms.http://seastreak.com/tour-and-event-cruises/hudson-river-fall-foliage-cruise-with-cold-spring-ny-visit/