http://www.eonline.com/news/watch_with_kristin/celebrity_apprentice_recap_five/295228
Celebrity Apprentice Recap: Five Season-Premiere Shockers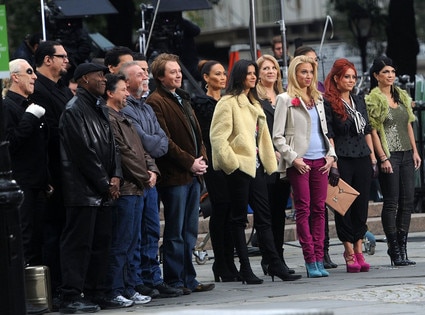 Bobby Bank/WireImage
The charitable D-listers are finally back in the boardroom!
Celebrity Apprentice returned tonight with its fifth installment of Donald Trump's theater of the absurd. The ladies team, Fortitude Forté, and the men's team, Unanimous, (known as the Trumpeteers for a magical moment), were tasked with raising the most money in dueling delis.
Which team shilled the most sandwiches? Who did The Donald sack first? And why did two contestants disappear from the show?
OOPS: Guess Apprentice champ John Rich was drinking more than 7-Up Retro before his Sin City flight
In the end, timid and unhurried cheese slicer Cheryl Tiegs was fired regretfully and without drama. "I don't know if this [show] is right for me," she said quietly, and for her sake we have to agree. At least she'll be saved from the women's inevitable bullying and catfights.  
If the former supermodel's firing was a foregone conclusion, the night offered plenty of other surprises:
RELATED: Apprentice Star Omarosa's Brother Shot and Killed
1. The Men Won: Compared to the women, the men's sandwich sales were abysmal. They drew a huge crowd thanks to showman Penn Jillette's theatrics and photo ops with fans on the street—but after adding a celebrity snap for their Facebook profiles, most of the potential customers left without forking over their lunch money. Even with their $35,000 prize for beating the women with their tastier offering (as Arsenio Hall says, a "sammich" is better than a sandwich") in a live contest on the Rachael Ray show, Forté spanked them by $65,000 in sales and donations. But Orange County Chopper's Paul Teutul Sr., who declared a lofty goal of $500 grand, persuaded one of his buddies to donate $305,000. This devastated Forté project manager Patricia Velásquez, who never seemed to recover from the fact that the donations she solicited for her Wayuu Taya Foundation were earmarked instead for Paul Sr.'s designated charity, the Make-a-Wish Foundation. 
2. Marco Andretti Bowed Out: After his close friend and racing cohort, Indy 500 champ Dan Wheldon, was killed in a horrific crash while C.A. was filming its premiere, original contestant Marco Andretti took a leave from show. (He was also mourning the death of his maternal grandmother.) But Unanimous weren't undermanned—legendary racer Michael Andretti took his son's place in the task—and will continue to compete as long as his dignity will allow him.
MORE: Which former Celebrity Apprentice contestant's "assets" include VHS tapes, tepees and tambourines?
3. Teresa Giudice Didn't Flip Out: The Real Housewives of New Jersey star, infamous for tossing tables and antagonizing her friends and family, was Miss Congeniality tonight. Also baffling—even for someone famous for mispronouncing words ("ingrediences"; "Norwegian" for "Nor'easter; and, tonight, referring to Andy Cohen as one of Bravo's "big headhunters")—is why the Housewife introduced herself as Teresa "Judy-chay" when she, her costars and family have always rhymed her last name with "chewed ice." The cookbook author also notably failed to impress Rachael Ray with her "secret recipe" of roasted red peppers. Hopefully Teresa will spice up the show soon with one of her infamous violent rages.
 4. Friendly Fire: We weren't exactly expecting a Meat Loaf meltdown this early in the season, but both teams were (disappointingly?) chummy and composed tonight. "Queen of Mean" comedian Lisa Lampanelli ruined her rep by being an absolute sweetheart, and both project managers were reluctant to name anyone to bring back to the boardroom. Paul Sr. caused a mild stir by labeling George Takei as "meek" (really a more surprisingly apt description of Ms. Judychay at this point), but Trump leaped to his defense, pointing out that Star Trek's Sulu is a leading gay activist and former Japanese internment camp detainee. The contestants may not be BFFs (example: Aubrey O'Day slamming Debbie Gibson after a lunchtime jam session with Wyclef  Jean: "She loves her own voice and her own music, but I loved being able to snatch that microphone and sing my little freestyle with Wyclef." Meow!), but for now both teams could be called Unanimous. 
MORE: Stephen Colbert to Resume Taping Report Tomorrow
5. The Mafia Princess Took a Hit: Aubrey O'Day said she "may take a bullet for naming" Victoria Gotti, but none of the women shied away from recommending that mob boss John Gotti's daughter join Cheryl Tiegs and project manager Patricia as candidates for firing. Victoria didn't protest, either, acknowledging that going MIA (to treat an eye condition) without notifying her team wasn't copasetic. "Maybe she woke up in the trunk of a Lincoln Continental," quipped Lampanelli, who also accused the Growing Up Gotti star of making personal calls instead of focusing on their task.
If the biggest shocker of tonight was this Apprentice's lack of shock value, funnyman Adam Carolla more than compensated with his wisecracks, which deserve a special shout-out:
• "White Kids Without iPads"—Joking about the name of his charity
• "I like George Takei, but do we actually have to pretend that we like Star Trek? I had neighbors who were Trekkies. They were alcoholics."
• "He's asked to pick two guys to bring back to the boardroom and he picks three minority groups to kick off the show. Nice going, Paul."—On his project manager saying he'd ask Trump to fire either Arsenio Hall or Takei