http://bleacherreport.com/articles/1083396-king-henriks-eighth-shutout-of-the-season-propels-surging-rangers-past-devils
King Henrik's Eighth Shutout of the Season Propels Surging Rangers Past Devils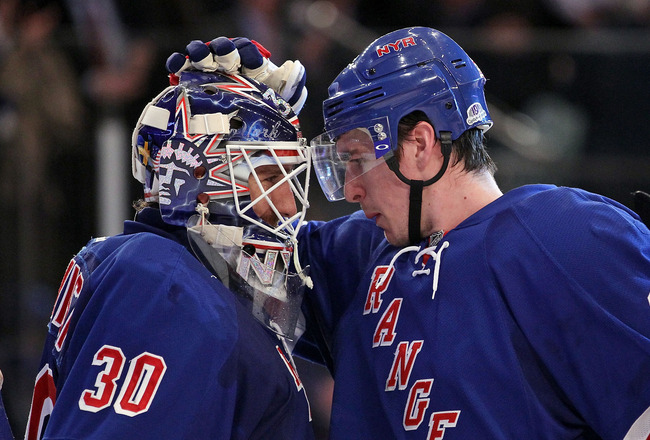 Bruce Bennett/Getty Images
After much speculation of trade rumors surrounding Columbus Blue Jackets' starRick Nash, the Rangers decided not to pull the trigger on what was a quiet deadline day across the NHL. 
As the old saying goes: if It's not broken, don't fix it. The Rangers organization held true to that saying and wisely didn't risk toying with a successful team. There were questions about Nash fitting into the system, not to mention the six years left on his $7.8 million dollar contract—making him one of the most expensive players in the league.
At the end of the day, The Rangers weren't willing to ship off a first round pick, Brandon Dubinsky and either Michael Del Zotto, Ryan McDonagh or Tim Erixon.
On what was a highly anticipated Monday night in New York City, Rangers general manager Glen Sather backed out of the talk for Nash, and it was finally time for some hockey.
The New Jersey Devils traveled to Madison Square Garden riding a seven game road winning streak to face off against the Conference-leading New York Rangers. Prior to the game, the Rangers were 6-3-1 in their last 10 and held a seven point lead at the top of the division over the second-place Boston Bruins. 
But how would the night turn out?
Immediately after the puck dropped onto the Rangers logo at center ice, the intensity could be felt between the two division rivals. The Devils have had the Rangers' number this season, winning two of the three previous meetings, including a 1-0 win on February 7th.
Putting the past in their rear view mirror, however, the Rangers came out hungry. Just before the three-minute mark in the first, rookie Carl Hagelin netted the first goal of the night from teammates Dan Girardi and Captain Ryan Callahan. The Rangers were fired up and would never look back. 
The second period featured 11 penalties, but as the horn sounded, the score remained 1- 0 in the Rangers favor. 
With 2:26 left in the third and the Devils desperate for a goal, Lundqvist dove across the net and robbed Illya Kovalchuck with a tremendous glove save that left the Garden crowd in awe. As fans stood out of their seats, chants of 'Henrik!' were louder than ever. At the 1:06 mark, Cally sealed the deal with an empty-netter from Hagelin that sent all Devils fans packing.
Lundqvist earned his NHL-best eighth shutout of the season and the 43rd of his career. After a much needed team win against a physical Devils team, the Rangers now hold a nine point lead over the Bruins and Penguins in the Conference.