http://sports.espn.go.com/espn/page2/story?id=5579551
Paddleboarding gains popularity in NYC
Lisa Altobelli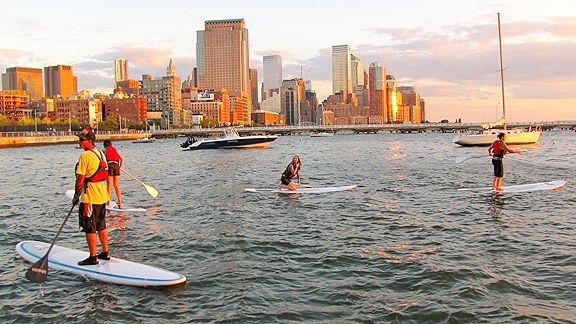 Courtesy of Lisa AltobelliAn Urban Escapes class teaches paddleboarding on the Hudson River in New York City.
On a recent New York City evening, a class of 15 twentysomethings bobbed on a makeshift dock in the Hudson River listening to an instructor tell them about the country's fastest-growing watersport, paddleboarding. As they strapped on life vests, they heard about the precautions -- watch out for boats and bodies of course, plus other useful advice like, "Close your mouth if you take a tumble because the last thing you want is to swish this river water between your teeth."
This turned out to be much-needed guidance as three-quarters of the newbies took a dive soon after they shakily wobbled up from their knees, albeit the women fared better than the men.
"The girls always do better because they have a lower center of gravity which means better balance," said Brittany Wright, a guide for Urban Escapes who suggested the sport to her company after spotting it on a recent Hawaiian vacation.
It seems easy enough. You stand on a 12-to-19-foot-long board, grab at least a six-foot-long paddle and set off into the sunset. What's deceiving is the amount of core strength it takes to stay upright on the bobbing board and how downright exhausting the paddling can be -- so much so that even professional athletes have incorporated it into their workout routines. The NHL's former ironman, Chris Chelios, would routinely paddle 20 miles up the Malibu coastline during his past six off-seasons with his big-wave-riding neighbor Laird Hamilton.
And while paddleboarding's roots can be traced back to ancient Polynesia, Hamilton can be credited with popularizing the sport in recent years after he paddled across the English Channel in 2006, put his name on a signature line of stand up paddleboards and has said that it renewed his excitement for surfing because, "It brought me back to a place where I can be happy again on a one-foot wave."
This year there are professional paddleboarding races almost every month from Hawaii to Florida, while diehards like 48-year-old old endurance athlete, Tom Jones, took 92 days to paddle the 1,500 miles from Key West to New York City this summer -- a mind-boggling feat to those in the Urban Escapes class who found it tough to get their bearings on their first go-round in the choppy Hudson.
"I was one of the lucky ones since I didn't fall in," said Urban Escapes founder Maia Josebachvili, who also has branches of her company in Boston, Philadelphia and Washington D.C., and offers a multitude of other adventure sports like skydiving and white water rafting.
The company is always mindful of the safety of its clients of course. "We hire the best instructors we can find so everyone feels comfortable trying out these sports, but let's just say we have a robust insurance policy," Josebachvili said.